Microsoft Teams continues to grow like wildfire with over 115 Million daily active users.
115 Million! That's like half of the population of America. Or even the entire population of Japan.
Now that we are back working from home, (thanks coronavirus….) businesses may be wondering whether they really need to keep their phone system in the office or whether they should move over to Microsoft Teams for calling.
But how much does it cost to run Microsoft Teams as a phone system?
Let's have a look….
Microsoft Teams is fully able to run as your business telephone system. That means you make and receive telephone calls, nationally and internationally. If you have your own phone numbers, you can move them over to Microsoft Teams.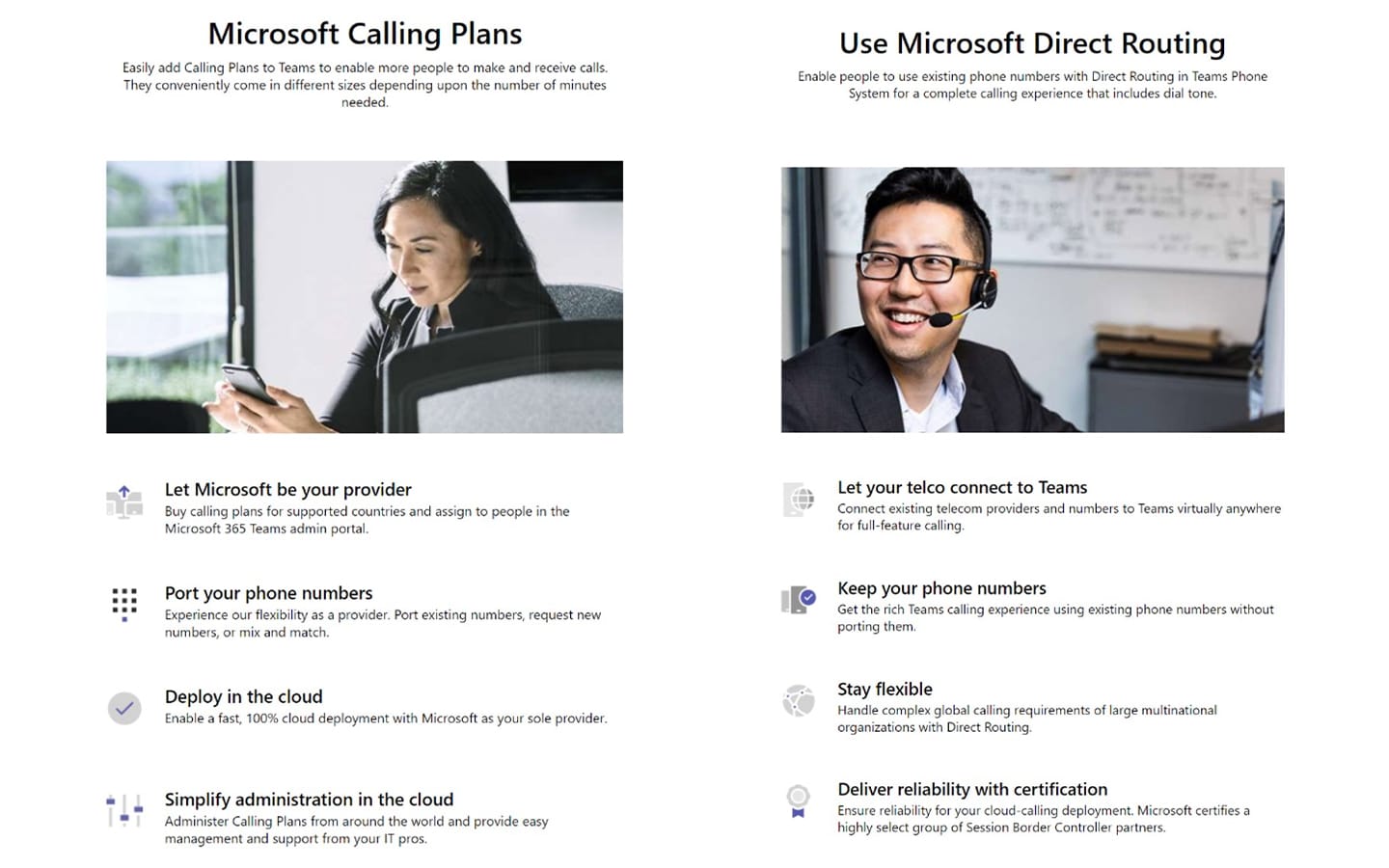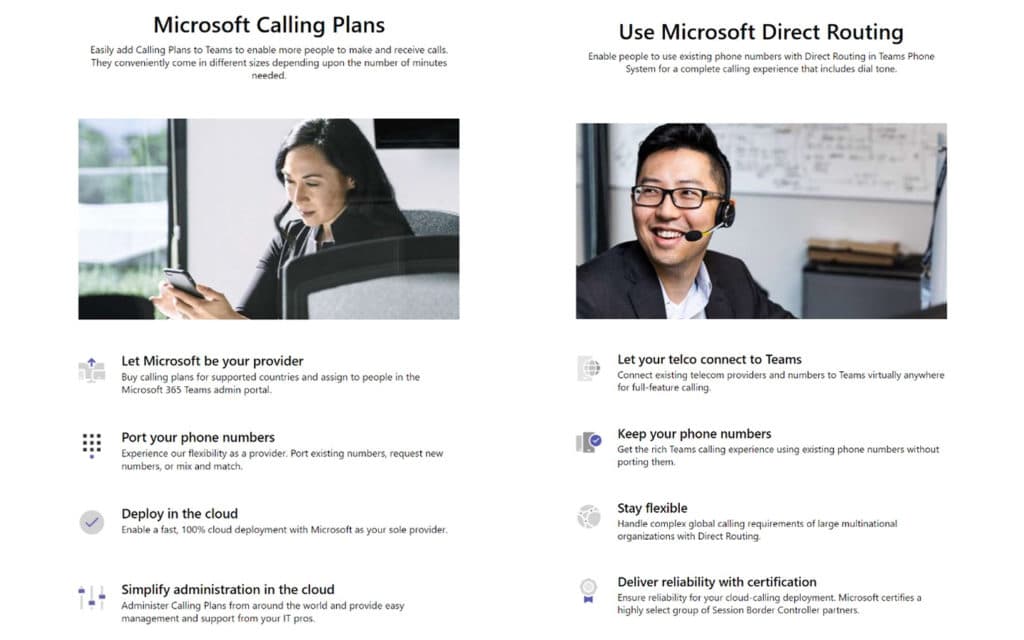 Now, when you start to look into this you will quickly find that there are two options to choose from. Microsoft Calling Plans and Teams Direct Routing.
Microsoft Calling Plans are basically where you pay Microsoft as your phone system provider, they take care of all the calls, minutes, voicemail, you get those nice menu system "Press 1 for this, 2 for that etc". All done on a per user per month subscription basis. Although it is primarily aimed at 'per user', they do have plans to cover common area phones, for example, the ones you find in hallways, receptions as well as meeting rooms.
Teams Direct Routing is slightly different. You still get all of the great phone system functionality of Microsoft Teams but the actual calls and the charges for those calls are paid by you. You'll either do this through a Teams Direct Routing provider, or you might re-use your existing SIP provider in your office by using a gateway.
So which one do I use?
Well, it comes down to a couple of things.
Firstly, if you have any specialist requirements like you run a contact centre or you need call recording for compliance purposes, then Teams Direct Routing with a provider is definitely the right choice… (For Now). Right now Microsoft doesn't offer the contact centre or call recording with its own offering. So you need a 3rd party provider to add those features via Teams Direct Routing.
Secondly, Price.
Let's look at how these two plans stack up.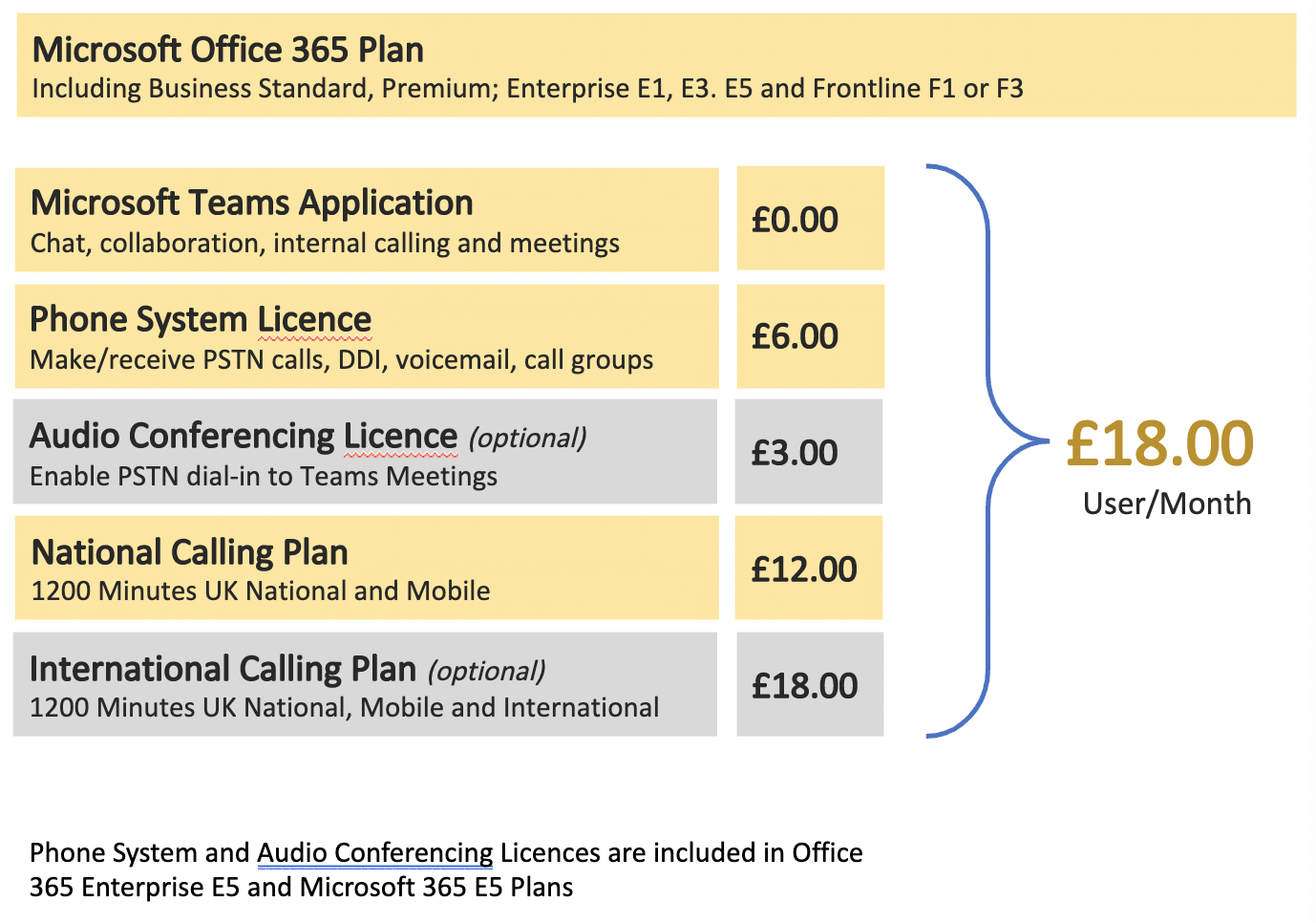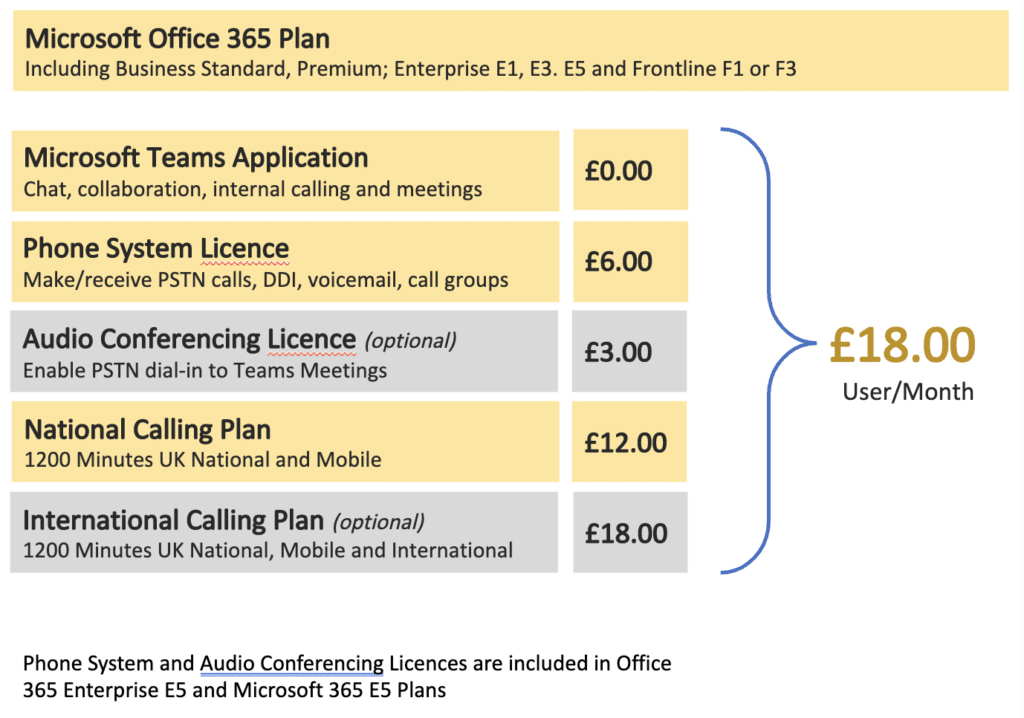 With Microsoft Calling Plans you need an Office 365 plan to start.
Now we add the phone system licence at £6.00, an optional Audio Conferencing Licence at £3.00. This is for when you want to setup Teams Meetings and you want people to join by phone.
Next you need to add a calling plan either national calling which gives you 1200 minutes of local, national and mobile calls for £12.00 or international for £18. Thats a total of between £18.00 and £24.00 per user per month.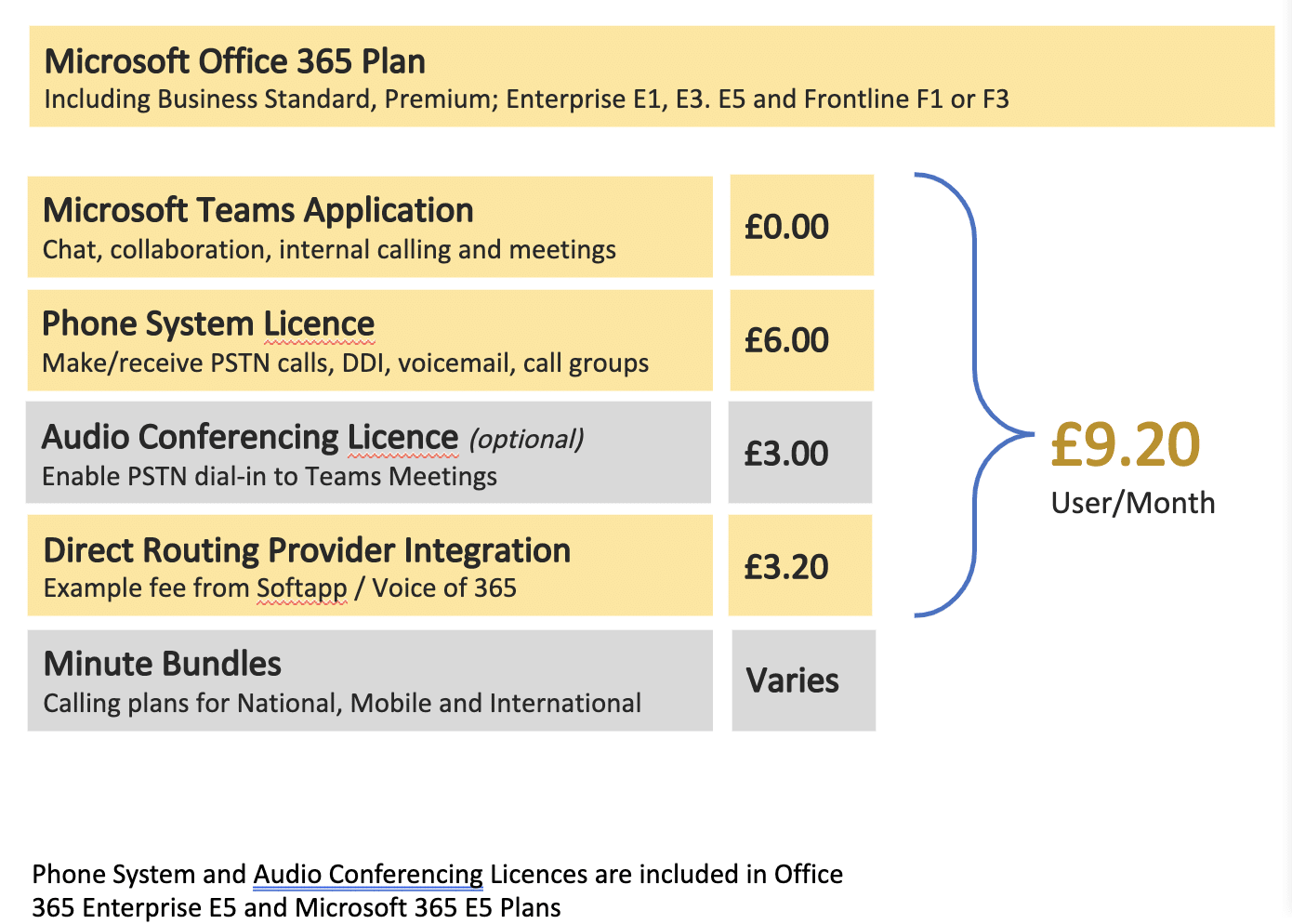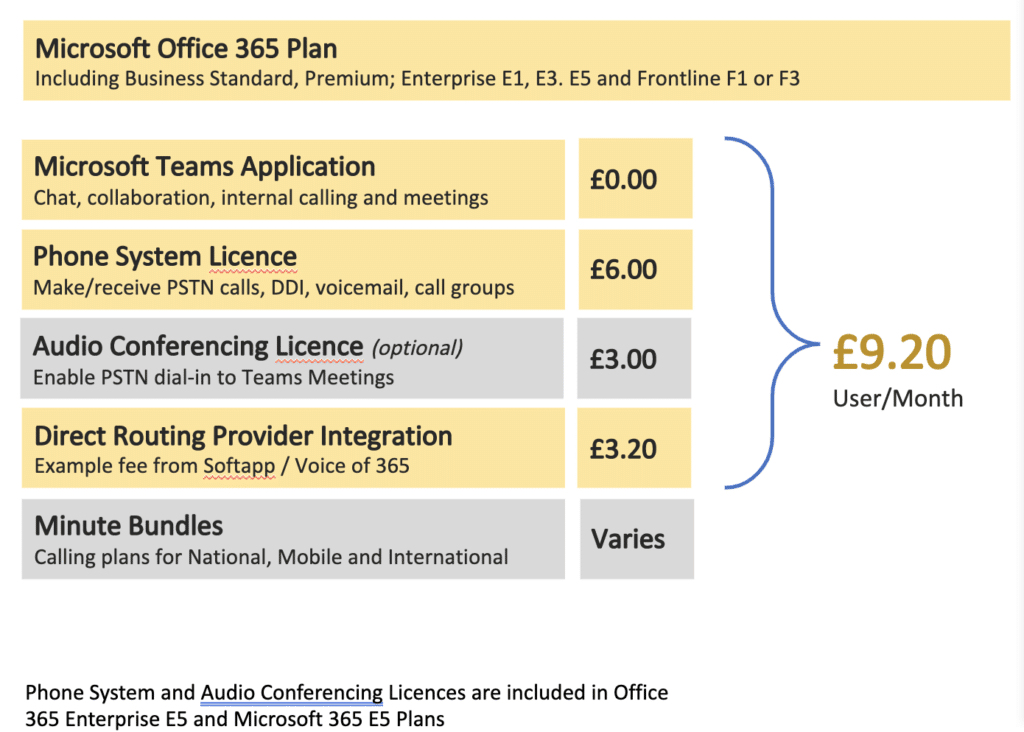 With Teams Direct Routing, you will need the Office 365 plan to start.
This may be a surprise but you still need the Phone System Licence at £6.00 and you still have the optional Audio Conferencing Licence for £3.00. This is because Microsoft are still providing the phone system here and you can only dial into their meetings using Microsoft phone numbers
New you pay a Direct Routing integration fee. Depending on your provider we've seen this anywhere from FREE to £3.20 per user per month.
Finally, you can now buy some minutes to actually make and receive your cals. So the total here is between £6.00 and £9.00. Compared to the Microsoft Offering of between £18.00 and £24.00, this could be a good option for you.
Now… if this wasn't complicated enough, there are a couple of curveballs to throw in.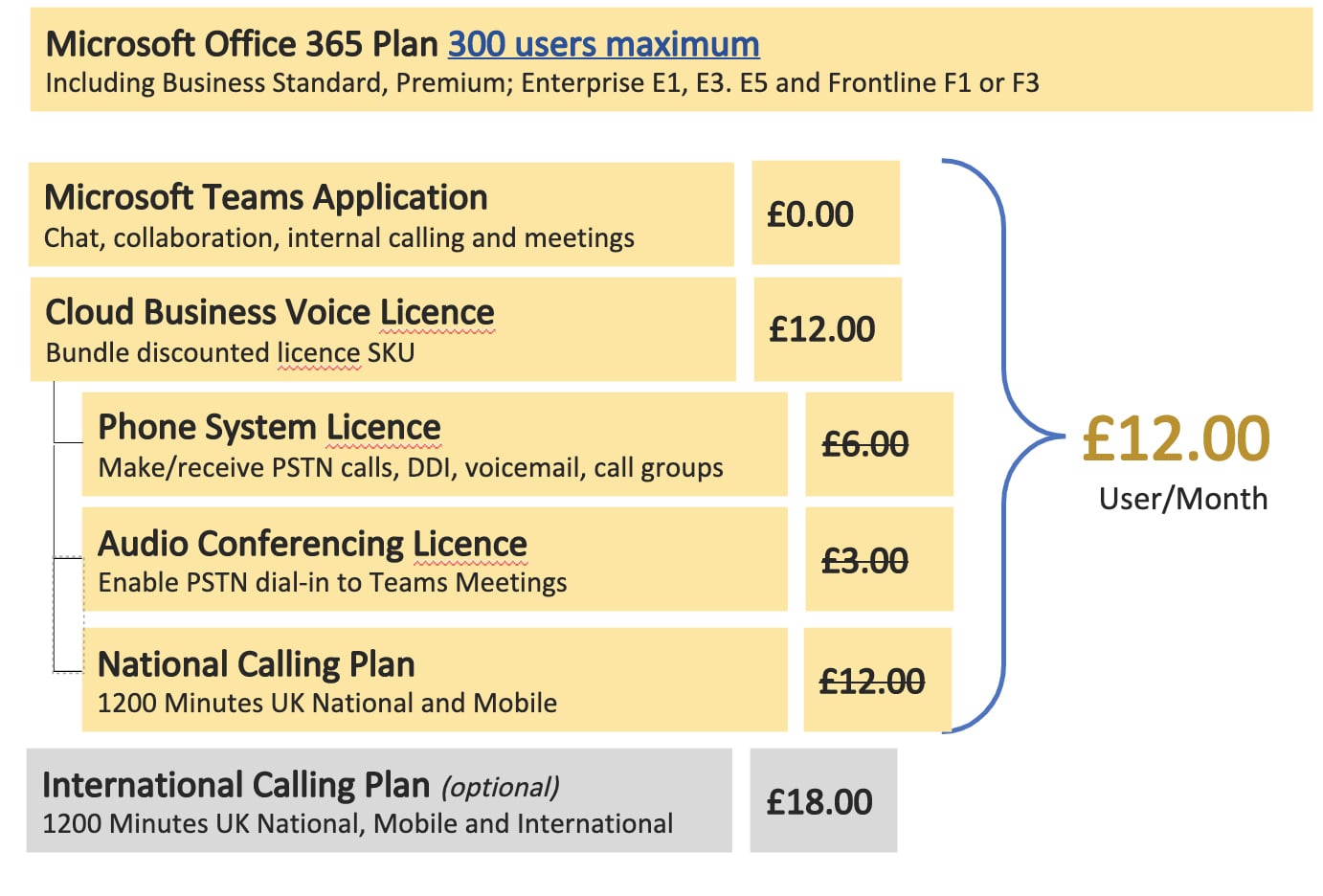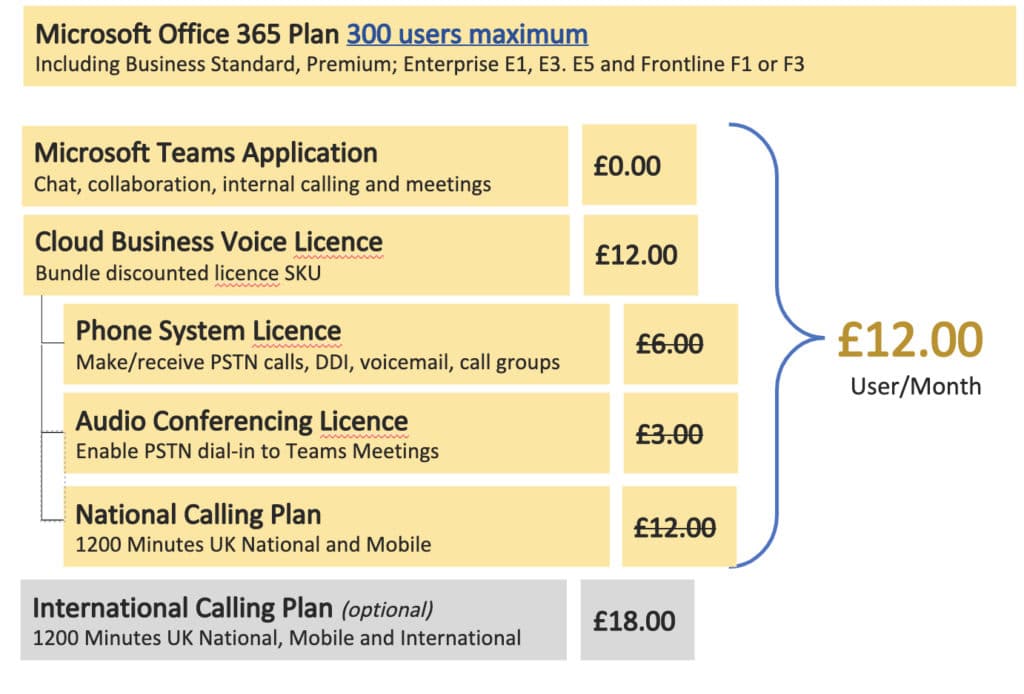 If you are a business of 300 users and under then you should be using the Microsoft 365 Business Plan. In which case you take advantage of the Microsoft 365 Business Voice offering which bundles in phone system, audio conferencing and 1200 local and national minutes for a fee of £12.00 per user per month.
So Teams calling is still looking pricey compared to those.
We should also mention that if you are a large business looking at Microsoft Calling Plans, there are now cheaper plans which include 120 minutes and 240 minutes, so there is some flexibility. Remember, when you buy these plans, each user isn't really limited to 120 minutes. Your overall business gets an aggregation to all the minutes plans you have bought. So as long as you stay under that limit each month, there are no overage chargers.
Overage Charges on the Microsoft Calling Plans are very expensive compared to traditional VoIP plans.
If your company is considering the move to Teams for Voice Telephony, I can wholeheartedly recommend it. You can pretty easily decide if you have special use cases like contact centre and call recording, the Direct Routing is for you. If you don't need those then Microsoft Calling Plans could be the answer if you buy the right licences.
We hope that this has been able to help you! Let us know what you think.
Check out our YouTube Video above and subscribe for more content like this! Also follow our social medias to stay connected with us and see when we post new content!
Twitter: @UKCloudNexus
Facebook: @ukcloudnexus
YouTube: Cloud Nexus
Latest Blog: How to use teams in meeting rooms and not break the bank – Poly X30