We'll give you a secure Microsoft 365 platform that not only sticks to UK Government guidelines, but has also been built with the benefit of our experience.
All of which means that you give your teams the best start with M365.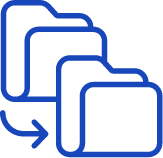 All your data
in one place
Move all of your data over to Microsoft 365's cloud services; Sharepoint and Onedrive for business.
We'll do all the leg work, you can sit back happy in the knowledge that your important documents are safe.

We'll give you everything you need to ensure that your business is safe and sound. That includes access to all of M365's protection tools, as well as guides on how to use them best. 
Come with us if you want to keep your data safe.

Teamwork makes the dream work, right? Microsoft Teams lets everyone get their heads together virtually, with workflow and insights to keep things running smoothly.
As for us, we'll make sure everyone knows what they're doing so you can hit the ground running.

Get your teams up to speed with all the Microsoft 365 quickly with our intensive Bootcamps. You'll be glad to know that there's no exercise involved, and no pounding motivational music, just a comprehensive session on Outlook, Onedrive, Teams and Sharepoint.

Want to move to Azure? Not a bother. We'll put together a plan that will make it easy.
And if you already use Azure then we can make sure you're getting the most out of it by looking at costs and security options.